'Metal Gear Survive' trailer reveals a co-op zombie survival game — watch it here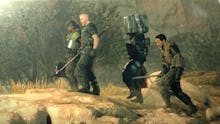 On Wednesday, at Gamescom — the annual video game fair held in Germany — Konami unveiled a trailer for the first Metal Gear title developed in the wake of director Hideo Kojima's departure from the company. It's called Metal Gear Survive, and it looks to be a sharp deviation from the Metal Gear series popularized over the past 29 years.
Metal Gear Survive revolves around a four-player co-op experience that, as Geek.com points out, strongly resembles the mechanics of zombie shooter Left 4 Dead. And while the core Metal Gear formula is still intact, the universe in which it operates has shifted dramatically as well. 
Survive takes place immediately after the events of Metal Gear Solid V: Ground Zeroes, but in an alternate reality. The trailer reveals the fate of the surviving characters who are sucked into a giant wormhole and transported to a parallel dimension occupied by rabid, horn-headed zombies.
Further details on the game's structure are light, but Survive doesn't appear to feature the series' famed protagonist, Solid Snake. In addition to the new collaborative group play, Metal Gear appears to be placing an emphasis on hand-to-hand melee combat, as demonstrated by the blunt pole and edged spear used to dispatch of zombies during the trailer. The base-building gameplay utilized throughout the Metal Gear series seems likely to feature in Survive, as evidenced by the gated fortress seen towards the end of the teaser.
Metal Gear Survive has already sparked a number of social media responses following the reveal. As this is Konami's first Metal Gear title without the direction of its former vice-president and series creator, Kojima, fan reaction is divided to say the least.
Good luck with that, Konami. Metal Gear Survive will be available on PlayStation 4, Xbox One and PC in 2017.