Ivanka Trump just wanted to buy an $84 gold-plated ear cuff. Instead, she got burned.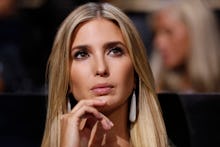 Ivanka Trump was online shopping when... there it was! The most perfect tiny little noodle of a golden ear cuff she ever did see. 
The eldest daughter of Republican presidential nominee Donald Trump added the helix ear cuff from indie brand Lady Grey to her shopping cart, probably without a second thought. 
That is, until Lady Grey cofounders and designers Jill Martinelli and Sabine Le Guyader wrote Trump a letter telling her that they had, ahem, diverted the $84 she'd spent on the jewelry, the Cut reported.
In a photo posted to Instagram on Tuesday, the note is shown as reading: "We're happy to let you know that the proceeds of your sale have been generously donated to the American Immigration Council, the Everytown for Gun Safety Organization and the Hillary Clinton Campaign."
The two also thanked Trump for her purchase and wrote, "We hope you enjoy your new Lady Grey #helixearcuff." 
Trump has stumped for her father throughout his campaign, most notably delivering a speech geared toward women at the Republican National Convention.
Donald Trump has, of course, made a number of controversial statements on immigration, calling Mexican immigrants rapists and criminals and promising to "build a wall" to keep them out. The GOP candidate has also said he's against gun control and has promised to uphold the Second Amendment.
"While we were flattered to receive an order from Ivanka Trump, our social and political views couldn't be further from those of the Trump campaign," Martinelli told the Cut in an email. 
"When we received her order, we instantly felt compelled to take the money and donate it to a few organizations that were more aligned with our ideals."
Touché.