IPhone screen repairs don't have to cost you a fortune — here are your options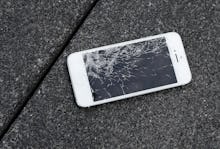 Accidents happen. Even with a case on, it's possible to drop your iPhone and crack the screen. When that happens, there's typically four options to choose from: undergo a costly repair via Apple, purchase an entirely new iPhone, get it repaired by a third-party shop or suck it up and deal with the damage. None of those sounds particularly appealing, especially considering the potentially steep expenses of the first three scenarios.
Even with Apple's One Year Limited Warranty, accidental damage isn't covered unless you have AppleCare+ — which costs $99 or $129 upfront depending on your model, plus a service fee of at least $49. Without Apple's insurance plan, your screen repair could cost up to $149. As for purchasing a completely new iPhone, unless you have a contract deal with your wireless provider (which is becoming increasingly rare), you might have to fork over $549 or more for a new device.
Fortunately, repairing your screen doesn't have to cost a fortune. Even a thoroughly shattered iPhone can be repaired by a reliable third-party vendor for around $100. Considering that AppleCare — 
There are risks to going third-party, of course, as Apple is trying its hardest to faze out unauthorized merchants. But don't worry: It's not technically illegal, and a quick Yelp search can help identify trustworthy repair shops in the area. Some of those top-rated businesses can fix your iPhone screen within 15 minutes. For example, in New York City multiple top-rated businesses will repair your iPhone screen for $100. There's this one. And this one. Or this one.
Dropping your iPhone doesn't have to leave you in financial ruin. Just remember to keep your device backed up just in case you damage it. With the help of a trustworthy vendor, you'll have a glossy new screen in no time.  
Aug. 18, 2016, 11:43 a.m.: This story has been updated.