Twin Olympic marathon runners in hot water after crossing finish line hand in hand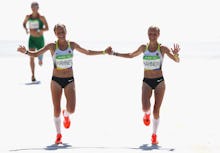 During the women's marathon at the 2016 Summer Olympics Sunday night, German identical twins Anna and Lisa Hahner found themselves in an unusual position: side by side.
After realizing their proximity, the 26-year-old runners held hands as they crossed the finish line, in a move they swear was completely unplanned. 
"I invested all I had and, 300 meters before the finish line, I was next to Lisa," Anna told the New York Times. "It was a magical moment that we could finish this marathon together. We did not think about what we were doing."
But while the cute stunt made for a heart-melting moment for spectators attending the event, the German Athletics Federation was far less amused. 
Thomas Kurschilgen, sports director of the Federation, told the Times in an email that the sisters should have been more focused on the race they were running and less on an adorable photo op.
"Victory and medals are not the only goal," Kurschilgen said. "Still, every athlete in the Olympic competitions should be motivated to demonstrate his or her best performance and aim for the best possible result."
"Their main aim was to generate media attention," he added. "That is what we criticize."
Kurschilgen's theory may sound harsh. But as the Times reported, the Hahners' race times were far from their best.
Anna, who usually clocks in at 2 hours 26 minutes 44 seconds, ran the race in Rio in 2 hours 45 minutes and 32 seconds.
Lisa, who usually finishes in 2 hours 28 minutes and 39 seconds, wound up with a time of 2 hours 45 minutes and 33 seconds. 
The sisters placed 81st and 82nd overall in the event.
Still, Anna said they had given their all and were satisfied with the result.
"We trained the last four years to participate in this marathon," she said. "Neither the time nor the position was what made us happy but to know that we did the best that was possible that day."