McDonald's recalled its fitness trackers after they gave kids rashes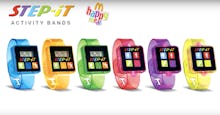 McDonald's fitness trackers won't help kids shed the calories in a Happy Meal. They will, however, help kids shed their skin in a painful rash. 
The fast-food giant received complaints that kid-friendly fitness tracker toys in Happy Meals were causing skin irritation. It responded by issuing a voluntary recall of the fitness trackers, CNET reported. 
Called Step-Its, the toys were supposed to be featured in a four-week promotion in the U.S. and Canada. They're the latest in the McDonald's quest to appeal to more health-conscious Americans: Earlier in August, Mickey D's announced it was removing artificial preservatives from chicken McNuggets and serving buns without high-fructose corn syrup, Fortune reported.  
But how much would those tracker toys — or any fitness tracker, for that matter — actually help counteract high-calorie meals like a Big Mac and fries?
First of all, the activity monitors didn't record heart rate. They were basically no-frills pedometers that blinked according to how fast or how slow the user was walking. 
Some didn't even count steps — they just lit up when people moved around, noted Julia Bell, a professor of computer science at the Walters State Community College in Tennessee.
Did this blinking do any good? Let's start by estimating how many steps it'd take to actually burn off a Happy Meal. College-age adults burn an average of 89 calories per mile, according to one study, and the average person takes roughly 2,000 steps per mile. Kids probably take more steps per mile than adults, so our estimates are on the low side. 
Basically, Happy Meals need around 10,000 steps to burn off. That's about 60% to 100% of the steps a child might take in a given day: A study from 2011 revealed boys average 12,000 to 16,000 steps a day and girls average 10,000 to 13,000 steps a day. (Nutritional information can be found with the McDonald's nutrition calculator.)
Happy Meal with hamburger — 11,235 steps
With kids' fries, Go-Gurt and apple juice
Happy Meal with cheeseburger — 12,809 steps
With kids' fries, Go-Gurt and 1% milk
Happy Meal with chicken McNuggets — 9,887 steps
With kids fries, apple slices and chocolate milk
How about an adult-sized meal? 
Big Mac, fries and a Coke — 21,123 steps
940 calories, 39 grams of fat, 28 grams of protein
So even though McDonald's fitness trackers are gone, let this be a lesson: Exercise and diet go hand in hand, and if you're going to wear an armband, don't get a cheap plastic one.