CNN Anchor Brianna Keilar Destroys Donald Trump's Lawyer on Live TV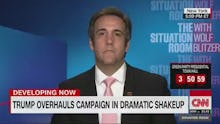 On Wednesday, Republican presidential nominee Donald Trump hired the head of Breitbart News, Stephen Bannon, as his new campaign chief executive. The staffing change effectively replaced campaign chairman (and spin doctor for dictators) Paul Manafort as the top authority in Trump's campaign other than the big man himself.
On CNN on Wednesday evening, senior political correspondent Brianna Keilar asked Trump's legal counsel, Michael Cohen, whether the move was a reaction to the candidate's spiraling numbers in the polls.
Cohen's reaction was somewhat incredible.
"Let me ask you about this," Keilar asked. "You say it's not a shakeup, but you guys are down, and it makes sense that there would —"
"Says who?" Cohen interrupted. "Says who?"
"Polls," a clearly unamused Keilar responded. "Most of them. All of them?"
After a brief, awkward silence, Cohen repeated, "Says who?"
"Polls," Keilar said. "I just told you, I answered your question."
"OK, which polls?" Cohen continued.
"All of them," Keilar said.
Twitter users went wild with Cohen's apparent mental block.