Stabbing suspect with white power tattoos threatened to kill blacks at Trump rallies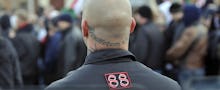 Police in Olympia, Washington, have arrested 32-year-old Daniel B. Rowe on suspicion of stabbing a 47-year-old black man and injuring the man's 35-year-old white girlfriend in what they suspect was a hate crime, the Olympian reported on Wednesday. Rowe allegedly threatened police he would go on to kill Black Lives Matter protesters at Donald Trump rallies.
According to the Olympian, police began to suspect racial motivations in part based on Rowe's tattoos, which included the words "skinhead," "white power" and "hooligan" and a confederate flag. Rowe reportedly went to Downtown Olympia after hearing that "kill cops" graffiti had been sprayed in the area; he reportedly believed the graffiti had been put up by members of the Black Lives Matter movement.
According to local station KOMO-TV, court documents indicate that Rowe told police that he "took a blood oath to fight on the street, and if he was let go tonight, he planned on heading down to the next Donald Trump rally and stomping out more of the Black Lives Matter group." The document goes on to note that Rowe said he knew that police "couldn't hurt the black groups on the street" so he would do it for them, and that he "is able to fight those fights and will continue the fight against all of the Black Lives Matters people."
"This has all the hallmarks of a hate crime," Deputy Prosecutor Joseph Wheeler said, reported the Olympian. "This black-and-white couple was simply expressing their love for one another."
Some conservative groups have taken to labeling Black Lives Matter — which officially denounces violence against police — a terrorist organization in the wake of lethal attacks on police officers in Dallas, Texas, and Baton Rouge, Louisiana.
Prominent advocates of the theory that there is an ongoing war on the nation's police and that there is some connection to Black Lives Matter protesters have included Trump-allied news site Breitbart, former New York City Mayor Rudy Giuliani and Milwaukee, Wisconsin, Sheriff David Clarke, despite indisputable data showing police fatalities have fallen in recent years.
Meanwhile, Trump's rhetoric on the campaign trail has won him numerous endorsements by neo-Nazi and white supremacist organizations. Earlier this month, American Nazi Party leader Rocky Suhayda described Trump's campaign as a "real opportunity." According to progressive site ThinkProgress, several violent incidents across the country have either occurred at Trump's campaign events or involved suspects who said they were inspired by his run for the executive office.