Ryan Lochte robbery: US swimmers Jack Conger and Gunnar Bentz taken off plane in Rio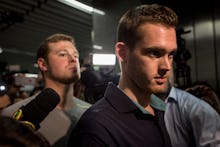 Two U.S. Olympic swimmers who were with Ryan Lochte when he was allegedly robbed at gunpoint were pulled off a flight from Rio de Janeiro Wednesday, amid mounting questions over Lochte's claims.
Jack Conger and Gunnar Bentz, along with fellow teammate James Feigen, were all reportedly in the car with Lochte Saturday when it was pulled over by robbers who were impersonating police officers, according to Lochte.
Conger and Bentz were bound for the U.S. when they were taken off the flight, according to ABC News. "We can confirm that Jack Conger and Gunnar Bentz were removed from their flight to the United States by Brazilian authorities," Patrick Sandusky, spokesman for the U.S. Olympic Committee, said. Feigen was also taken in for questioning.
An attorney for Conger and Bentz told the Associated Press that the pair won't be able to leave Brazil until the testify about the robbery.
Lochte, however, is already back on U.S. soil. As Mic previously reportedly, the Olympian left Brazil just as a judge issued an ordered for his passport to be seized.
Authorities in Brazil have been casting doubts on Lochte's claims, and have reportedly not found any witnesses to corroborate the swimmers' story. Security footage of the swimmers returning back to the Olympic village also raised questions in authorities' minds, according to ABC. 
"It's noticeable that the victims arrived back physically and mentally unshaken, even joking with each other," the judge said of the video.