'Mr. Robot' just offered 3 huge reveals. The results were mixed.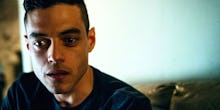 If you were hoping for Mr. Robot to finally answer some of its most lingering questions, then season two's seventh episode did deliver. The execution, however, led to mixed results. 
Three big reveals reared their head, all centered around Elliot's meandering narrative. His story this season has felt grounded and at times, boring, as he continued to play cerebral cat and mouse with his Mr. Robot persona (and in turn, the audience). But now, at least, we know why that's the case — even if the internet had already figured it out a month ago. 
Mr. Robot's latest twists can effectively be reduced to the good, the bad and the (still) dubious. Here's the case for each.  
Elliot really was in prison, as the internet predicted. 
Thanks to the collective mind of the internet, theories about Elliot's predicament started coming out after the season two premiere, and they all had a familiar theme: Elliot's not giving us the full picture. For those who specifically predicted he was in prison, well, a gold star for you. 
There's some stuff to like about the twist — especially for someone who didn't see it coming — as the curtain unfolds while Elliot speaks with his psychologist, Krista. It's a beautifully captured reveal, with the camera panning from Elliot's elaborate illusion to the reality of a prison in his cell, the prison cafeteria and recreational area. 
"I needed this in order to get better," Elliot says, addressing the viewer. "Please don't be mad at me for too long." 
Elliot's justification is fair — and two seasons in, viewers are already aware that he's an extremely unreliable narrator. The crux of the twist, however, falls on the precedent. We've been treated to two big reveals in two seasons — in season one with the fact that Mr. Robot is a figment of Elliot's imagination in the guise of his dead father, and now with Elliot being in prison this whole season.
Moving forward, fans will, understandably, expect a big twist in the show's recently announced third season, which cheapens the storytelling. If everyone's constantly looking for clues and Easter eggs — for series creator Sam Esmail one-upping himself (somehow) in the future — viewers will instinctively be distracted from the narrative. Moreover, when these twists are quickly figured out, the risk isn't worth the reward for a potential third time. 
Leon wasn't who we expected. 
A smaller part of the Mr. Robot prison theory focused on Elliot's Seinfeld-loving friend, Leon. Some had suspected he was a figment of Elliot's imagination as well, considering how Elliot would openly ignore him during their routine trips to the diner (prison cafeteria, in reality) and the basketball court. Conversely, he could be real — just not in the best mental state as someone who incessantly rambles about a '90s sitcom. 
But Leon's true purpose came to fruition in an unexpected turn. Elliot is attacked — and nearly raped — by a gang looking to get their bitcoin money back after Elliot shut down Ray's shady black market website. He's saved in the nick of time by Leon, wielding a shank. He reveals himself to be an accomplice to Whiterose, thus making it easy to assume he's been watching Elliot's back while he was in prison this whole time. 
"When you see Whiterose, make sure you say I did you good," Leon tells him. 
Unlike the prison theory, Leon's twist was wholly effective and surprising, blowing the collective minds of the Twitterverse in the process. 
Suffice it to say, if Mr. Robot is insistent on keeping these signature narrative twists, this is the type of execution for which it should strive. 
Is Tyrell actually dead? 
At this point, Elliot is essentially speaking on behalf of the audience when he repeatedly asks his Mr. Robot persona about the fate of Tyrell Wellick. But now we've been told what apparently happened: Elliot shot him. 
This actually makes sense; the last we see of Tyrell at fsociety's old headquarters, Elliot's reaching into the popcorn machine where Darlene was keeping a gun. In theory, yes, Elliot probably did shoot him — but that doesn't necessarily mean he's dead, and Mr. Robot never explicitly says so. 
The red flags are there in other places, too; Elliot received a cryptic phone call from him, and his wife Joanna is still fitting into the narrative while receiving similarly cryptic gifts at her home, presumably from Tyrell. 
If nothing else, it was supposed to be a temporary salve for Elliot and the audience to feel some closure about Tyrell's fate. However, when you repeatedly show your protagonist living in a faux reality and hallucinating key plot points, it opens up everything to speculation.   
But even in Tyrell's murky fate — and a somewhat ineffective prison reveal — there's hope. Now that the curtain has finally been lifted over Elliot's plot, presumably, he can move forward at a quicker narrative pace that every other storyline has adopted.
Elliot's journey this season has hit some highs, such as his monologue on religion and trippy, Adderall-induced hallucinations — but it's not unlike his previous attempts at playing chess with his own alter ego: it's going to hit a dead end sooner or later. We're ready for Elliot to join reality, and finally gain control from his illusions.