Climate change just forced an entire Alaskan village to relocate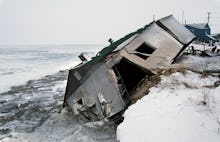 After years of watching rising sea levels destroy homes and climbing temperatures erode the coast, voters in Shishmaref, Alaska, decided Tuesday to relocate their entire village — whose population of 650 is made up mostly of Inupiat tribe members — to the mainland.
According to CNN, the vote was close, with 89 voting to move and 78 voting to stay in the coastal town in hopes of maintaining their native land, history and culture.
"Our community on this island has seen artifacts about 500 years old," Shishmaref council's secretary, Donna Barr, told CNN. 
In an essay in December for the Department of the Interior, Alaskan youth ambassador and Shishmaref native Esau Sinnok, 19, wrote about how his "familiar world" had been "interrupted" by climate change.
In Sinnok's lifetime alone, he said, the island has lost roughly 100 feet along its coast, forcing his family to move homes 13 times since he was 4.
"Within the next two decades, the whole island will erode away completely," he wrote.
Still, Barr told CNN she doesn't imagine the move will happen anytime soon due to funding constraints. "About 15 years ago, they estimated the cost at $180 million, but I would figure it's much higher now," she said.
This dilemma is hardly unique to Shishmaref: Just days ago Olympic weightlifter David Katoatau announced his victory dance was meant to raise awareness about his home country Kiribati, an island in the Pacific that will soon be lost entirely to rising tides, forcing 113,000 people to relocate. 
"It really hurts knowing that your only home is going to be gone, and you won't hunt, fish and carry on traditions the way that your people have done for centuries," Sinnouk wrote. "It is more than a loss of place, it is a loss of identity."