Indian wrestler Sakshi Malik becomes a feminist icon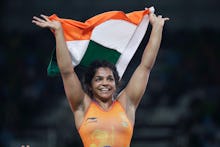 Olympic wrestler Sakshi Malik, 23, hails from Haryana, a region of India made infamous in recent years for several highly publicized rape cases and garnering one of the nation's highest rates of femicide, the practice of selectively aborting female fetuses and killing or abandoning baby girls. 
According to the Times of India, when Malik was growing up, people scorned her wrestling ambitions, warning Malik's family that men would find her "undesirable." But now, those haters are about to sing a different tune. 
Malik changed the conversation when she dominated the 58kg women's wrestling category in Rio, taking home a bronze medal from the Olympic games. Indian cricket player Virender Sehwag was quick to highlight Malik's victory in a tweet against femicide. 
Malik is India's first female wrestler, and the fourth Indian woman overall, to win her own Olympic medal. Now she's being showered with national awards, cash prizes and a new job offer from the regional government, Asian News International reported. She's become a national icon overnight, called "daughter of India" by Indian Prime Minister Narendra Modi. 
Malik has come a long way from watching her grandfather wrestle in sand pits, the family tradition that originally inspired her interest in the male-dominated sport. After over a decade of wrestling, this medal asserts her place in Indian history. "It's the result of my 12 years [of fighting] day and night," Malik told the Press Trust of India. 
She may be surprised to find posters of her around nearby cities when she returns home. Malik's mother Sudesh told the Indian Press Trust she hopes the champion wrestler is an inspiration for people who think "daughters can't do well." 
After Malik's victory, Sudesh graciously threw shade at misogynists and reminded everyone that the best way to combat gender stereotypes is plowing through no matter what the haters say. 
"There were many people who used to tell me in the beginning that she is a girl and why are you putting her in wrestling," Sudesh told the press. "But I supported her. When she started getting medals people stopped speaking."