Trevor Noah shows just how hopeless Donald Trump's efforts to capture the black vote are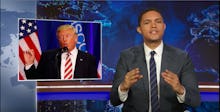 Donald Trump's efforts to woo the black vote can effectively be judged by looking at the Wisconsin town he spoke to about the issue: West Bend, Wisconsin, where the population is 95% white. The irony wasn't lost on The Daily Show's Trevor Noah — but Trump's divisiveness goes beyond the ill-timed speech. 
The presidential candidate's rhetoric on police violence in black communities — which he essentially suggested would be remedied by adding numbers to the police force in such areas — doesn't make much sense either, Noah said. 
"You cannot pitch more police without fixing the police that are already there," Noah explained on Wednesday's show. "The Philadelphia 76ers don't need more basketball players, they need better basketball players." 
Case in point: the recent U.S. Justice Department probe of the Baltimore Police Department, which was found to have violated black residents' civil rights. Noah detailed a couple of indicting examples to the audience, including one black man who was stopped by police 30 times in less than four years, and a woman who was subjected to an unlawful strip search in full view of the public (in the end, she simply received a repair order for a busted headlight). 
Officers were also given pre-written templates for filing police reports, where they would be able to fill in blanks for areas such as the address and time of the incident. However, as Noah noted, one notable area was also pre-filled: "black male." 
"Next time someone tells you the narrative of racial bias in policing is made up, maybe you can use this template," Noah concluded, showing a graphic of a similar form. "What you do is you fill in the date, the place where it happened and the name of the person who dismissed your racial claim. Oh, and then there is one field that we can pre-fill, because the person who is telling you this, they are always a jackass." 
Naturally, at the phrase "jackass," an image of Trump from his Wisconsin speech took the place of the form. 
Watch the full segment from Wednesday's Daily Show below.