Minnesota's Ilhan Omar just shut down these unfounded rumors about her marriage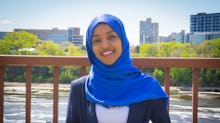 Minnesota's Ilhan Omar might become the first female Muslim Somali-American lawmaker in the United States. But of course, that has opened her up to anti-Muslim backlash.
Omar, who beat out incumbent Rep. Phyllis Khan in the Democratic primary for Minnesota Legislature for District 60B, became the target of a right-wing blog detailing claims her marriage is fraudulent. 
The blog also went on to look into reports saying her estranged husband, Ahmed Nur Said Elmi, was her brother, in hopes of tapping the xenophobic stereotype that Muslims wed their family members.
Then, the Minnesota Star Tribune highlighted these claims despite a lack of evidence.
In response to these bigoted rumors, Omar released a statement on Wednesday. In detail, she explained her marriage history to set the record straight.
"I entered into a relationship with a British citizen, Ahmed Nur Said Elmi, and married him legally in 2009," Omar's statement said. "Our relationship ended in 2011 and we divorced in our faith tradition. After that, he moved home to England. I have yet to legally divorce Ahmed Nur Said Elmi, but am in the process of doing so. Insinuations that Ahmed Nur Said Elmi is my brother are absurd and offensive."
In Islam, the procedures for a divorce is quite different from the civil process in the United States. When a couple wants to divorce, they must obtain two witnesses (this usually includes an imam). Then the husband is to state "I divorce you" to his wife either verbally or in writing.
From her statement, Omar has divorced Said Elmi in accordance to sharia law and is already in the works for finalizing her divorce with the courts.
Omar made the point that these accusations are irrelevant to her credentials as a prospective state lawmaker.
"I will offer clarity and share a difficult part of my personal history that I did not consider relevant in the context of a political campaign,"  the statement said, "so that we can put these rumors to rest and return to what really matters: how we join together to build a more prosperous and equitable district and state."