Drake is impossible to diss, Joe Budden finally admits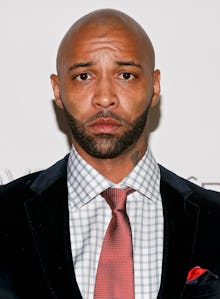 Despite repeatedly tweeting he'd like to go back to being "irrelevant," Joe Budden seems to be living for the hype he's created surrounding his ongoing beef with Drake. On August 9, the rapper took some time to discuss his thoughts on their never-ending feud in a now-deleted Periscope video, and he finally admits dissing Drake was a pointless exercise. But of course, his explanation for why he's stopped dissing Drake came with one last potshot at the Toronto rapper.
"He's very insecure," Budden says in the videos resurfaced on YouTube August 17. "If I'm Drake, I've built my entire empire off said insecurity. So why would I want to get rid of it? I wouldn't. That's exactly why I stopped dissing him. It was pointless."
The remarks in question appear around 1:04:40.
Budden's remarks follow comments made by Hot 97's radio host Ebro, who joked that Eminem might also have a diss prepared for the Canadian hitmaker. 
Drake and Em seemed to shut down that rumor Tuesday night when the two took the stage together during Drake's Summer Sixteen tour stop in Detroit. Eminem posted a photo from the Joe Louis Arena, writing "Views from the Joe #WelcomeToDetroit," prompting Budden to once again assume something was about him when it wasn't. 
"I keep trying to irrelevant but y'all won't let me lol," Budden quickly replied on Twitter, in tweets that have since been deleted: "I'm smoking hookah w my girl, why do I have 300 mentions cuz 2 top tier artists performed together? ... I'm lost."
Hopefully, this marks the end of the most underwhelming, confusing and messy beefs in hip-hop history. Budden's final total of Drake diss tracks ends at four — a far cry from the 25 Drake reportedly said he would pay Budden $10,000 to record. Now, Budden can return to podcasting in peace, and Drake can go back to dominating the summer Billboard chart.