Eight female news anchors in Egypt were suspended and told to lose weight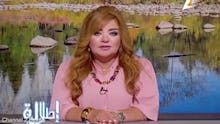 Egypt's state media, the Egyptian Radio and Television Union, has suspended eight women news anchors for a month, telling them to lose weight before they can be on TV again, reported the BBC, citing local sources.
The decision, unsurprisingly, caused a lot of backlash. In a Facebook post translated by the BBC, the Women's Centre for Guidance and Legal Awareness, a global women's rights group, said that the ERTU's decision "is a form of violence against women," but the ERTU is sticking with the suspension.
What's more, the director of the ERTU, Safaa Hegazy, is a woman and a former news anchor. And other women in Egyptian media have reportedly defended ERTU's actions. Fatma al-Sharawi, a journalist at the Al-Ahram, an Egyptian daily newspaper, said "she thinks the policy should be applied across local TV stations," reported the BBC.
As for the women who are being suspended? One of them, Khadija Khattab, reportedly told a private news station that the coverage of her suspension used "insulting" language. "I believe I am an ordinary Egyptian woman who looks normal, and I don't wear too much makeup," reported the New York Times.
Unfair scrutiny of women television personalities is by no means limited to Egypt. Back in April, an Iowa news anchor responded to viewers who criticized her appearance after giving birth, and there's a long history here in the U.S. of sexualizing on-air "weather girls."
So far, there's no word on whether the Egyptian state media has a similar policy for male news anchors and their bodies.