'Game of Thrones': Kit Harington had the same reaction to Jon Snow's resurrection as fans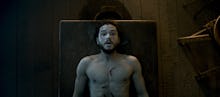 Breaking: Jon Snow actually knows something. Well, at least Kit Harington, who plays everyone's favorite Northern bastard on Game of Thrones, does. Harrington understands no one was fooled when Jon was "killed off" at the end of season five. 
Speaking with the Wrap, Harington said it was difficult to prepare for season six because scripts are given just two weeks ahead of shooting. Essentially, he knew he'd be coming back — but he wasn't sure how the character would play out (as some theorized based on other characters from the books who were brought back to life, he could've had a villainous turn). Since he basically came back the same, Harington was initially disappointed.  
I got the scripts, and actually, he comes back as himself, as the Jon that everyone knows. Which at first I found disappointing. But it's more subtle than that. He has an insight into what lies beyond that very few people in his world do, and that no one in our world does — he knows that there's no afterlife. Which does quietly drive who he is and what he wants to do.
Now that Jon was brought back to life, however, Harington sees himself as one of the "safest people" on the show. This is certainly plausible, especially after the show and books took great lengths to reveal his true parentage — as the bastard son of Lyanna Stark and Rhaegar Targaryen — and that was just discovered in the season six finale. 
As for how the reveal, and Jon's journey, will play out, Harington has his own theories — but he's keeping them to himself. 
"I never really like expressing them," he said. "If I say what my theory is, then some people will take it as gospel because I play the character. And I also find it unhelpful in playing the character to theorize about it, because he doesn't think too much about it. If he gets to know that truth at some point, which I hope he will, it will be a really fascinating moment to play." 
Unfortunately for fans, Jon and the rest of Westeros' fate will have to wait a little longer than usual, as the show's seventh season will have a summer release date for the first time (typically, fans could expect an April premiere). In the meantime, HBO will continue to tease us with suitably vague teasers — such as their San Diego Comic-Con "in production tease."