The Ryan Lochte robbery in Rio story keeps getting messier and messier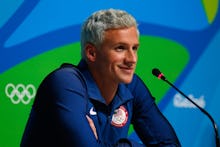 Just when we thought the alleged robbery at gunpoint of U.S. gold medalist Ryan Lochte and his three teammates in Rio de Janeiro couldn't get any weirder... it does. 
Brazilian officials declared Thursday Lochte's allegation a fabrication, according to the Associated Press. Instead of being violently robbed, like they claimed, the four Olympians were embroiled in a "rowdy gas station confrontation," which resulted in a damaged bathroom door.
Lochte was thrust into the spotlight after alleging he — along with Jack Conger, Gunnar Bentz and Jimmy Feigen — were robbed by assailants impersonating as police officers in the early hours of Sunday, during the Olympic Games.
Lochte went on NBC to give a dramatic account of the incident, including having a gun cocked and pressed against his forehead. 
Inconsistencies in his accounts and between the other swimmers' accounts resulted in an investigation into the veracity of the alleged crime.
Security footage of the men returning to Olympic Village after the alleged incident shows them in good spirits and with valuables on their person, which was one of the first developments to undermine their story. 
Brazilian Judge Keyla Blanc De Cnop subsequently ordered the seizure of Lochte and Feigen's passports Wednesday — but Lochte had already made it back to the United States. 
Later that day, Conger and Bentz were pulled off their plane bound for the United States in order to be questioned over the incident. 
Brazilian police told ABC on Thursday that after one of the swimmers broke down the gas station's bathroom door during an altercation with a security guard, they "offered 100 Brazilian real and $20" to pay for damages.
"Unfortunately, the swimmers told one lie after another," a Brazilian official involved in the investigation anonymously told the New York Times on Thursday. "We've been able to determine that there was no armed assault."
Aug. 18, 2016, 12:24 p.m. Eastern: This story has been updated.