Private prisons are over for the US Department of Justice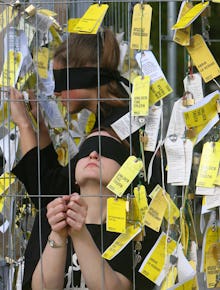 On Thursday morning, the U.S. Justice Department issued a memo saying it would end the use of private prisons to hold federal inmates.
In a memo reported by the Washington Post, Deputy Attorney General Sally Yates noted private prisons served "an important role during a difficult period" between 1980 and 2013, when the federal prison population exploded by 800%. But since then, new sentencing policies and revised drug sentencing guidelines have stopped the avalanche of federal convictions.
Federal prison populations are decreasing, she continued, and private prisons don't provide the same level of service as those run by the government.
"The rehabilitative services that the [Federal Bureau of Prisons] provides, such as educational programs and job training, have proved difficult to replicate and outsource — and these services are essential to reducing recidivism and improving public safety," Yates wrote.
The decision comes on the heels of a major internal report by the Justice Department showing that its contractors — Corrections Corporation of America, GEO Group and Management and Training Corporation — weren't running safe prisons. Scathing exposés of the widespread abuse and neglect in private prisons from outlets like Mother Jones have similarly dealt a blow to their reputation. 
This is not the end for private prisons. This decision will likely only affect private prisons working with the United States Justice Department, which handles prisoners sentenced at the federal level.
Right now, the Federal Bureau of Prisons houses 193,461 inmates, 22,164 of whom are in private facilities. The U.S. overall incarcerates 2.3 million people, the vast majority of whom are serving their time in state prisons and local jails.