Stocks of private prison companies are tanking after the Justice Department's announcement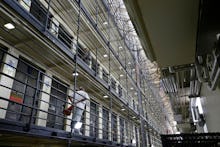 Break out your tiny violins! 
The stock prices for GEO Corp and Corrections Corporation of America — the two largest publicly traded companies in the for-profit prison industry — are plummeting on news that the Justice Department announced it would be letting its contracts with private prison companies expire. 
Shares for both companies immediately dropped like bricks, losing almost a third of their value shortly after the DOJ's announcement Thursday morning. 
The ruling only applies to federal prisons, which account for a relatively small percentage of America's incarcerated. For that reason, the announcement is unlikely to put these companies out of business anytime soon.
Luckily for at least some shareholders, Corrections Corporation of America has been diversifying over the past year by acquiring halfway houses, known in the business as the "residential reintegration market." 
Damon Hininger, CCA's CEO, said in a press release in October that such facilities were a "natural extension" of the company's existing businesses. 
CCA and GEO Corp did not immediately respond to requests for comment.