Shady story of Ryan Lochte's alleged robbery inspires #LochteGate on Twitter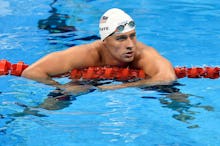 Ryan Lochte won a gold medal for the men's 4x200 meter freestyle relay at the Rio Olympics. But that victory may not be what Lochte's most remembered for at the 2016 Summer Games. Instead, it could be for #LochteGate.
A few days ago, Lochte and a couple of U.S. swimming teammates were allegedly robbed at gunpoint in Brazil. A couple of days later, Brazilian authorities pulled the swimmers off their plane to seize their passports — all but Lochte, that is, who was already back in the U.S.
The passport seizure was in response to some fishy business surrounding the details of the initial robbery, according to a warrant obtained by ABC. For instance, Lochte claimed he was robbed by a single thief dressed as a cop. But Lochte's teammate, James Feigen, said it was multiple men. Then, security camera footage from the Olympic village showed the men returning back to camp in good spirits. Now, a Brazilian police official says there was no robbery, and the Olympians were seen rough-housing in a gas station.
Using the hashtag #LochteGate, people on Twitter are having a field day with the absurd circumstances that have Lochte back in our collective consciousness for something other than jumping in a pool.
Congratulations, Lochte — not just for our medal, but for inspiring Twitter comic genius.