Here's Donald Trump's stance on the economy, immigration and the issues facing millennials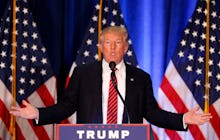 Donald Trump isn't polling very well with millennials.
Voters age 18 to 34 are breaking heavily for Hillary Clinton, according to a new USA Today/Rock the Vote poll, especially now that Bernie Sanders is out of the race.
Asked how they would vote in November, 56% said they're with her. Just 20% said they would vote for Trump.
But where does Trump stand on the top issues facing millennials?
Economy
Millennials are certainly worried about the economy. Trump is promising the "biggest tax reform since Reagan," according to his campaign website. He wants to reduce the income tax, and drop it from seven brackets to three, and exclude child care from being taxed altogether.
The real estate mogul also wants to cap the business income tax at 15%. "It's time to stop punishing people for doing business in America," Trump says on his website.
That would put the corporate income tax at a lower rate than China. A major part of Trump's economic platform is competing against China. "We're going to stand up to China," Trump said during a speech in Wisconsin.
He has outlined a seven-point plan to improve trade. "It includes strong protections against currency manipulation, tariffs against any countries that cheat by unfairly subsidizing their goods, and it includes a renegotiation of NAFTA. If we don't get a better deal, we will walk away," he said in a major economic speech in Detroit.
Trump opposes the Trans Pacific Partnership, a trade agreement among 12 Pacific Rim countries, and he has vowed to renegotiate NAFTA, the North American Free Trade Agreement enacted in 1994.
Trump also wants to tackle student loan debt. "That's probably one of the only things the government shouldn't make money off — I think it's terrible that one of the only profit centers we have is student loans," Trump told the Hill in July.
Trump says he will create jobs, but it's unclear where Trump really stands on a minimum wage, something he frequently ties to the job market in the United States. "I'm going to make sure that people are making much more money because we're going to bring so many jobs back that we're not going to have to be worrying about minimum wage so much. We're going to be bringing the jobs back where people can really make a good living, not just a minimum wage living," Trump told the Auburn Citizen in April.  
Trump's daughter Ivanka, a working mother of three, has been spearheading his policy on providing paid family leave and equal pay for women.
Social issues
Trump says he is pro-life and thinks abortion should be banned in the United States. He made headlines in late March when he said "there has to be some form of punishment" for an illegal abortion, but later clarified his comments to say the punishment would be against the doctor who performs the abortion. Trump also wants to repeal Obamacare.
Trump has also shown support for gay rights, telling the crowd at the Republican National Convention in July, in the wake of the shooting at a gay nightclub in Orlando that killed 49 people, that he would "do everything in my power to protect our LGBTQ citizens from the violence and oppression of a hateful foreign ideology."
On policing and race issues, Trump, who made a stop in Milwaukee amid civil unrest over a deadly police shooting, says the nation needs more police. He blames those "peddling the narrative of cops as a racist force in our society" for the unrest in Milwaukee and other places, like Ferguson. "They have fostered the dangerous anti-police atmosphere in America," he said. "The war on our police must end and it must end now."
And Trump, who has been endorsed by the National Rifle Association, says he will fiercely protect the Second Amendment. "Law and order must be restored," he said in his speech on crime in Wisconsin.
Trump also asked African Americans, who tend to vote Democratic, to reconsider, saying the party has "betrayed the African-American community."
Immigration
Trump has long said he wants Mexico to pay to build a wall to close the U.S. border from illegal immigrants. And he has a plan that will take just three days to get Mexico to agree to it, according to his campaign site.
"It's an easy decision for Mexico: Make a one-time payment of $5-10 billion to ensure that $24 billion continues to flow into their country year after year," he explains. He also broadly condemns Mexico for violence, drugs and gang activity spilling across the border. "We have the moral high ground here, and all the leverage."
He does not propose building a wall on the Canadian border, however, saying it would be too difficult.
After talking for months about banning Muslims from entering the country, Trump gave a foreign policy speech this week and touted his toned-down plan for "extreme vetting" of foreigners. "We will only invite people to join our country who share our tolerant values, who support our Constitution, and who love all of our people," he said in Wisconsin.  
Foreign policy
Trump's main message is that he'll "make America great again," and part of that means to get tough on foreign policy issues. He has vowed to annihilate the Islamic State, close the border to Mexico, and force NATO members to pay more for defense, though he recently backtracked on that idea.
"I had previously said that NATO was obsolete because it failed to deal adequately with terrorism; since my comments they have changed their policy and now have a new division focused on terror threats," Trump said in a foreign policy speech in Ohio.
Trump says he will strengthen the U.S. military, but gives few details. And he wants to overhaul the Department of Veterans Affairs.
The New York businessman and reality TV star recently received his first intelligence briefing, while saying that he doesn't trust U.S. intelligence and won't use it. He's also made several confusing and contradictory statements on several key foreign policy issues like Iraq, Libya, and Ukraine.
Energy
Trump says he will make energy a key part of his economic and foreign policy. First and foremost, he will lift restrictions on "all sources of American energy," which he said during his economic speech in Detroit will add 500,000 jobs a year.  
"Any regulation that is outdated, unnecessary, bad for workers, or contrary to the national interest will be scrapped," he said, outlining his energy policy in May in North Dakota. Like many of his other policies, Trump squarely ties his energy policies to jobs. He also targeted "political activists with extreme agendas" in his speech.
Trump also wants to expand the development of fossil fuel resources, is against the Paris climate agreement, and is in favor of the Keystone Pipeline, according to Politico.