The final episode of 'The Nightly Show' will include an appearance from Jon Stewart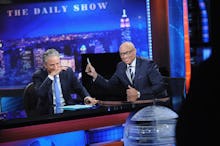 Comedy Central's abrupt cancellation of The Nightly Show led to host Larry Wilmore receiving some alcoholic gifts from fellow Daily Show alums Samantha Bee and Stephen Colbert. But Wilmore's former boss at The Daily Show is going one step further: Yes, Jon Stewart is going to show up on The Nightly Show for one last hoorah. 
Speaking with Entertainment Weekly ahead of Thursday's finale, Wilmore confirmed his send-off will include an appearance by Stewart, along with some of the show's regular correspondents.  
"We're just going to be simple [Thursday] night," Wilmore told EW. "We're gonna do a little reminiscing. I'm going to talk to all the contributors — although Mike Yard and Ricky Velez unfortunately aren't going to be here because they already had plans to be away. But everybody else should be around. Jon Stewart is going to drop by, and I'm going to talk to him. So he'll be popping in." 
Wilmore spent eight seasons on Stewart's Daily Show before taking over Comedy Central's second late night slot previously filled by the Colbert-hosted Colbert Report in 2015. Stewart served as The Nightly Show's executive producer, and has appeared on the show as well as, aptly called a Senior "Don't Give a Shit Anymore" Correspondent. 
The Nightly Show's last episode airs at 11:30 p.m. Eastern on Thursday on Comedy Central. As Wilmore points out, "You'll just have to wait and see" what the host is up to with Stewart and Co. for its final showing.