YG will reportedly donate $1 of every ticket sale to families affected by police violence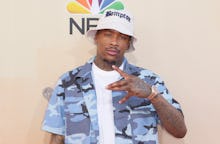 Rapper YG is set to embark on the most politically charged tour of his career, during one of the most controversial presidential elections in United States history — and he keeps raising the stakes. 
Uproxx reported Thursday that YG will be donating a dollar from every ticket sale from his Fuck Donald Trump Tour to support families of police brutality victims. The promise currently appears in some details of the ticket sale options, such as Portland's Roseland Theater, but not all. The Compton rapper confirmed it in part by retweeting a headline shared by Only Hip-hop Facts.
The announcement comes right on the heels of the video release for the second part of his anti-Trump anthem "Fuck Donald Trump," which focuses on the racist, xenophobic comments the candidate has made throughout his presidential run. It features Macklemore and G-Eazy, two artists YG predicted would be instrumental in helping the video make some serious waves. 
"They're the two biggest white rappers in the game," YG told i-D about both rappers' involvement in "Fuck Donald Trump (Part 2)." "I'm like, if I get two of the biggest white rap dudes in the game on this 'Fuck Donald Trump' record, that shit is gonna mean something." He also teased a part three and part four may be on the way soon.
According to Uproxx, the donations to police brutality victims' families will go through YG's 4Hundred Waze Foundation, a nonprofit organization dedicated to improving quality of life for Compton youth. Mic has reached out to YG's team for comment on the reports and will update if we hear back.
Tickets for the tour will be available for all dates Friday through YG's site.