Are driverless cars safe? As autonomous technology gains speed, questions arise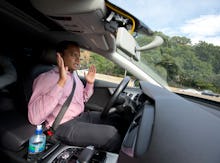 With Uber debuting a fleet of self-driving cars in Pittsburgh within several weeks, the question on everyone's mind is: Are self-driving cars actually safe?
According to a report from consulting firm McKinsey & Co., "widespread embrace of self-driving vehicles could eliminate 90% of all auto accidents in the U.S., prevent up to $190 billion in damages and health-costs annually and save thousands of lives," as reported by the Wall Street Journal. 
While the current technology requires some fine-tuning, self-driving cars are nearly at the level needed to spark a dramatic shift in the way we travel. Whether you like it or not, autonomous vehicles will become a mainstay on American roads within five years, auto companies say.
"The world is changing, and it's changing very quickly," Ford CEO Mark Fields said at an event in Palo Alto last Tuesday. "Starting in 2021, if you want to get around the city without the hassle of driving or parking, Ford's new fully autonomous vehicle will be there for you," Fields said.
Ford plans to construct self-driving cars capable of autonomously accelerating, steering and braking while simultaneously monitoring traffic and driving conditions. Ford's autonomous fleet is designed for urban ride-sharing, not highways or rural settings, and the technology does not require a human driver to intervene. In fact, Ford's self-driving cars won't even have steering wheels or pedals. 
For now, self-driving cars like Uber's will operate under the supervision of human pilots. Two "professionally trained engineers" — one ready to take the wheel if neccessary, the other in the front passenger seat taking notes — will be present in all autonomous Uber rides. The cars, all modified Volvo XC90 sport-utility vehicles, are equipped with "dozens of sensors that use cameras, lasers, radar, and GPS receivers," according to Bloomberg.
To oversee one of the most ambitious projects in engineering history, Uber recruited dozens of the world's foremost experts in self-driving transportation. It's no coincidence that Uber's commercial dive into autonomous driving begins in Pittsburgh: the city boasts the academic prowess of Carnegie Mellon University's robotics department, where researchers such as Sebastian Thrun, creator of Google's "self-driving car project," spent years experimenting with autonomous robots. 
Still, there are concerns to self-driving cars. A Tesla driving in autopilot mode was involved in the first-ever fatal autonomous crash back in May. While Uber's self-driving cars have yet to experience any traffic accidents since beginning road testing in Pittsburgh in May, the company acknowledges that no system — human or computer — will ever be perfect. "We're interacting with reality every day," Raffi Krikorian, Uber's engineering director, told Bloomberg. "It's coming."
That being said, another aspect of our reality is that 90% of car crashes are caused in part by human error.
Autonomous vehicles will likely save countless lives in the long run. Armed with state-of-the-art technology, self-driving cars will prevent thousands of accidents and bring the world closer together.
"I think we have all the pieces, and it's just about refining those pieces, putting them in place, and making sure they work across a huge number of environments," Tesla CEO Elon Musk told Fortune. "And then we're done."