Donald Trump adviser on the Holocaust: "The ovens were too small to kill 6 million Jews"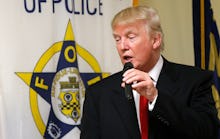 One of Donald Trump's foreign policy advisers has been accused of anti-Semitic behavior, having allegedly boasted about firing Jewish employees while serving at the Defense Department, in addition to denying the Holocaust was as bad as official accounts, according to a report published Thursday by McClatchy.
The allegations against Joseph Schmitz, who served as inspector general at the Defense Department from 2002 to 2005, were revealed in a complaint filed by Daniel Meyer, an intelligence official who oversaw whistleblower cases at the Defense Department. Meyer says he was retaliated against for reporting "public corruption," McClatchy reported.
In his complaint, Meyer claims Schmitz was proud of firing Jewish employees during Schmitz's time as IG.
"His summary of his tenure's achievement reported as '... I fired the Jews,'" Meyer wrote in the complaint, according to McClatchy.
Meyer claimed that another Pentagon official, John Crane, also witnessed Schmitz's alleged anti-Semitic behavior.
"[Schmitz] allegedly lectured Mr. Crane on the details of concentration camps and how the ovens were too small to kill 6 million Jews," Meyer wrote in the complaint, McClatchy reported.
Schmitz denied the charges, telling McClatchy that they're "completely false and defamatory."
Still, the report raises questions about the company Trump keeps on his presidential campaign.
Earlier this year, a staffer on Trump's campaign retweeted an image of Hillary Clinton showing her surrounded by money and what appeared to be a Star of David — an image that originated on a message board frequented by Neo-Nazis and white supremacists.
And in February, it took Trump multiple attempts to disavow the endorsement of David Duke, a noted white supremacist.