Brazilian police recommend that Ryan Lochte face indictment for filing a false report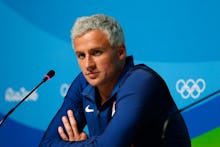 Brazilian authorities are recommending that U.S. Olympic swimmers Ryan Lochte and Jimmy Feigen officially be indicted for false reporting of a crime, according to ABC News. 
Earlier this week, Lochte, who won a gold medal for the men's 4x200 meter freestyle relay at the Rio Olympics, made headlines after he and three teammates, including Feigen, reported being robbed at gunpoint while out partying in Rio de Janeiro. 
At first, Lochte said he was held up by robbers impersonating police officers. 
"We got pulled over in our taxi, and these guys came out with a badge, a police badge, no lights, no nothing, just a police badge, they pulled us over," Lochte told NBC's Billy Bush. "They pulled out their guns, they told the other swimmers to get down on the ground — they got down on the ground. I refused, I was like, 'We didn't do anything wrong, so — I'm not getting down on the ground.'"
Shortly afterward, Brazilian authorities reported that Lochte's account of the incident did not match up with that of Feigen: for instance, while Feigen reported being held up by multiple armed robbers, Lochte only reported one armed robber. 
The inconsistencies in Feigen's and Lochte's stories prompted Brazilian authorities to order U.S. Olympics swimming team members' passports to be seized, although Lochte returned to the United States on Wednesday. If convicted of filing a false police report, Feigen and Lochte could potentially face up to three years in jail. 
It was later reported that "one of the swimmers was seen on CCTV footage breaking down the door to the bathroom at [a] gas station and fighting with a security guard," according to ABC News. 
The story has inspired numerous memes, as well as the creation of the Twitter hashtag #Lochtegate:
Aug. 19, 2016, 10:27 a.m.: This story has been updated to reflect that Brazilian authorities have recommended indictment against Lochte and Feigen. Initial reports indicated the charges had already been filed, but that is not yet the case.