Usain Bolt wins his 8th Olympic gold medal in the 200m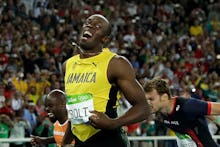 Usain Bolt, widely regarded as the fastest man alive, just backed up that label with yet another gold medal.
At the 2016 Rio Olympics, the 29-year-old athlete clinched a gold medal during the 200m men's race, making this his eighth Olympic gold medal. He finished in 19.78 seconds. On Monday, Bolt won the men's 100m final in 9.81 seconds.
This marks the third gold medal Bolt has won in the 200m. If he and his teammates win the men's 4x100 on Friday, he'll win the coveted "triple triple," or three gold medals in each of the past three Olympics for a total of nine gold medals. 
People on Twitter are appropriately thunderstruck by Bolt's incredible athletic feat.