US swimmer James Feigen will give $11K to charity, then leave Brazil after robbery scandal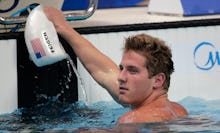 James Feigen — one of the four U.S. swimmers, including Ryan Lochte, involved in a robbery scandal in Rio de Janeiro — will donate around $10,800 to charity and then leave Brazil, his lawyer said, according to the Associated Press.
An agreement reached with a Brazilian judge reportedly stipulated that Feigen would donate 35,000 Brazilian reals to an "institution" and then leave the country. Though attorney Breno Melaragno didn't say exactly where Feigen's money will go, the AP states "the term 'institution' can be taken to mean charity."
Brazilian law states that people can make donations to escape criminal prosecution for minor offenses, Melaragno said, according to the AP. 
The scandal began Aug. 14, when Feigen and Lochte said they and two other U.S. swimmers were robbed at gunpoint during a night out in Rio. 
"We got pulled over in our taxi, and these guys came out with a badge, a police badge, no lights, no nothing, just a police badge, they pulled us over," Lochte told NBC's Billy Bush. "They pulled out their guns, they told the other swimmers to get down on the ground — they got down on the ground. I refused, I was like, 'We didn't do anything wrong, so — I'm not getting down on the ground.'"
But Brazilian authorities said there were inconsistencies in the swimmers' accounts of the alleged crime. They say the men — instead of being robbed at gunpoint — "were intoxicated, vandalized a bathroom, then were questioned by armed guards before they paid for the damage and left," according to the AP. 
A Brazilian judge ordered Feigen and Lochte's passports to be seized, though Lochte was already back in the U.S. The other two swimmers, Jack Conger and Gunnar Bentz, were pulled off their flight Wednesday for questioning. They left to return home on Thursday, according to the New York Post.