This heroic woman is selling her wedding dress on eBay — to pay for her divorce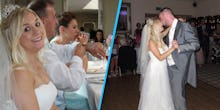 Over on eBay, a hero has been born. 
Sarah Wragg is selling her wedding dress after two years, according to Cosmopolitan U.K. But rather than write up a sappy description about why love is eternal or something, Wragg goes in. Way in.
"Great condition but needs dry cleaning before wearing to get rid of the stench of betrayal," she wrote in the description of the size 6, strapless art deco wedding dress. 
You see, the reason why Wragg, who lives in the U.K., is selling her dress in the first place is because her husband cheated on her, and now she needs money to pay for her divorce. At this point, you may be asking how we know this. Well, it's because Wragg wrote it all out in big red letters on eBay. 
"Mainly selling as I need to pay for my divorce which my ex-husband has left me to foot the bill for!" Wragg wrote. "It's strapless, with a long lace train which can be hooked up for the evening do."
"I didn't have time to get it dry-cleaned myself before my cheating scumbag of a husband decided to call an end to our marriage," Wragg continued. "It cost my poor parents around £2000 brand new in 2014!"
Wragg then goes into pretty painful detail about how she found out about the affair, while also apologizing for the lack of detailed pictures of the dress. 
"Sorry that there are only two pictures but when I found out my husband was living with another woman, I pretty much burned/permanently deleted everything with his disgusting face on it!" she wrote. 
And, to wrap up her truly inspiring post, she leaves us with a high note. 
"If you want a dress that is full of bad memories and shattered hopes and dreams then this is the one for you!" Wragg wrote. "Hope this dress brings you a lot more happiness than it brought me in the end and if not... well you can always sell it on here!"
"If you've got any questions — either about the dress or the skank that my husband ran off with — then please feel free to contact me!"
As of writing, bids on the dress have reached more than 65,000 British pounds, or about $86,000, proving that karma is truly real, and people, sometimes, can be very good.