Jon Stewart gives Larry Wilmore a proper send-off in his final 'Nightly Show' episode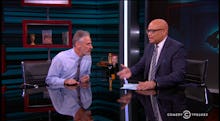 As announced Thursday, the final episode of Larry Wilmore's The Nightly Show featured a special guest appearance from Wilmore's former boss, Jon Stewart. Wilmore's final show wasn't going swimmingly prior to Stewart's appearance, as the host looked to his correspondents for help with the send-off — but everyone was too busy vacationing, planning their next jobs or having a secret office hook-up. 
But on came Stewart, initially, to steal Wilmore's champagne that was gifted to him by fellow late-night host John Oliver. However, the former Daily Show host's demeanor quickly turned serious when discussing Wilmore's program. 
"I just decided to stop by and tell you I love you," Stewart says. "And if I may say something else? ... Do not confuse cancellation with failure."
"You gave voice to underserved voices in the media arena," he continued. "It was a show that was raw and poignant and funny and smart and all those things. And you did it from scratch." 
Stewart also made a subtle dig at Comedy Central's president Kent Alterman, noting that what Wilmore had created on the Nightly Show did resonate with its viewers (Alterman said in a statement on Monday that its lack of connection with an audience was the main reason for the show's abrupt cancellation).
Stewart concluded:
You worked with a group of people who you invited to that conversation to collaborate with you, to sharpen that conversation, and what you don't realize is, you walk out of this room and that conversation doesn't end. And all the people that you work with are going to take what they learned here, and what they learned from you, and the beautiful experience that they had, and you're going to start to see them doing things in the business as well, and taking that and taking other experiences, and you're going to watch that flourish. And that's going to have you on it.
Watch Stewart's appearance on The Nightly Show's final episode here.