Olympic weightlifter loses his medal after testing positive for rat poison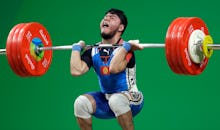 Kyrgyz weightlifter Izzat Artykov has become the first Olympian at this year's Games to have his medal stripped after testing positive for a banned substance, the Associated Press reported. The 22-year-old won the bronze in the men's 69-kilogram event, but lost it Thursday after strychnine — a compound often used as rat poison — was found in his body, according to the Court of Arbitration's anti-doping division.
While the highly toxic pesticide is typically used for killing birds and rodents, the World Anti-Doping Agency calls it a banned substance for athletes, since it can be used to tighten tired muscles. Strychnine has a history of being used by athletes in both the 1904 Olympics and the early Tour De France, when it was often washed down with brandy.
Artykov has been kicked out of the Rio Olympics, and may face a two-year ban, the AP reported. In the meantime, Luis Javier Mosquera of Colombia, who placed fourth in the 69-kilogram event, may be upgraded to earning the bronze.
Artykov isn't the first athlete to incur doping allegations this year. Last week, Polish weightlifters Adrian and Tomasz Zielinski and Bulgarian steeplechase runner Silvia Danekova all tested positive for banned substances. Before them, Chinese swimmer Chen Xinyi tested positive for a diuretic that was also banned.
The Court of Arbitration still has more positive doping results to review, according to the AP.