Kendall Jenner's "me day" routine is sure to make you feel like a peasant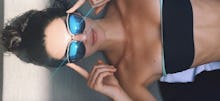 If you've been looking for a good reminder that you are not a young rich supermodel with a net worth of $12 million, then congratulations: Kendall Jenner wrote a blog post about her extravagant self-care routine last night!
Key ingredients include an $80 candle and an in-house masseuse.
"Between work and hanging out with friends and family, I sometimes forget to take time for myself," Jenner — est. 1995 — wrote on her website. "It's so important to indulge myself every once in a while to make sure my body feels good."
You know what? That part's actually kind of relatable. Work and social obligations can make those of us without several million dollars in the bank feel run-down every so often. But while we might choose to unwind after work with a bamboo-scented Yankee Candle from Kohl's and a half-assed back rub from a spouse, Kendall Jenner is a rich celebrity.
"When I know I need a 'me' day, I'll take a long, hot bath with my favorite Byredo candle burning," she continued. Us Weekly pointed out that Byredo makes hand-made French candles that retail for $80. "When [I] really feel beat, I'll have a massage therapist come to my house and give me a really amazing treatment." 
Kendall Jenner: full day, "long, hot bath," $80 candle, personal masseuse.
The general population: 20 minutes in the evening, couch, $15 candle from Kohl's, begrudging partner.
In conclusion: