Watch a Tesla Model S burst into flames during a test drive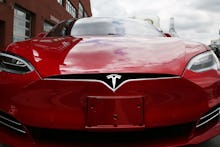 Batteries, our beloved technology's precious life force, keep trying to set us ablaze. The latest incident involved a Tesla Model S in the southwest of France. 
On Monday a Tesla Model S 90D burst into flames and was "totally destroyed" during a test drive, Ars Technica reported. The passengers inside were cautioned with a warning message that said there was an issue with "charging" so they were able to exit the vehicle before it was on fire. 
"We are working with the authorities to establish the facts of the incident and offer our full cooperation," a Tesla spokesperson told Mic in an email. "The passengers are all unharmed. They were able to safely exit the vehicle before the incident occurred." 
There is a discrepancy in reports on how many passengers were in the vehicle — one report points to four passengers, including a Tesla employee, while another report indicates that there were only three passengers — the Tesla employee, the driver and another passenger. 
The vehicle's driver told French newspaper Sud Ouest — according to Ars Technica — that he was "accelerating along a main road when a loud noise was heard" which was followed by the aforementioned warning message, after which the Tesla employee in the car asked him to stop the vehicle and evacuate. 
"In less than a minute, the car was in flames and, in five minutes, it was totally destroyed," the driver told Sud Ouest. You can see a video of the Tesla ablaze in the below tweet. 
In 2014, Tesla added extra titanium and aluminum armor to the undercarriage of its Model S vehicles which better protects the batteries inside from being punctured, and, in turn, exploding. It's unclear what the cause of this specific explosion was — reports don't indicate a major collision or impact ahead of the warning message that might have resulted in a damaged battery. 
August 19, 2016, 12:08 p.m.: This story has been updated.