Dalilah Muhammad is the first US woman to win Olympic gold medal in 400m hurdles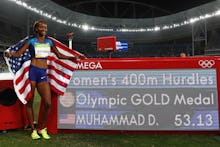 Dalilah Muhammad broke a historic milestone on Thursday night by becoming the first American woman to win a gold medal in the 400-meter hurdles.
In the final 10 meters of the race, Muhammad was the clear winner with a significant distance between her and the rest of the competition. The 26-year-old Olympian clocked in at a breakneck speed of 53.13.
Like Ibtihaj Muhammad, who has received media recognition and has been credited with being the first American Olympian to compete with the hijab, Dalilah Muhammad is recognized as a "loyal follower of the Islamic faith" by the International Association of Athletics Federation's publication SPIKE.
Her parents, Nadirah and Askia Muhammad, told NY1 that her Muslim faith, talent and self-discipline helped her become a world-class athlete.
The Queens, New York, native has dominated the 400-meter hurdles to the point where she has three of the five fastest times in the world. Muhammad's best time of 52.88 is the first time any woman has gone under 53 seconds since 2013. 
There was a point in Muhammad's life where her mother didn't want her to race in any hurdles event in fear of being hurt. 
"I said to the coach, 'My baby cannot be in these hurdles. She is going to hurt herself,'" Muhammad's mother said to NY1.
Muhammad, who raced competitively since she was 7, convinced her parents that she would become a great hurdler. Muhammad was right and now, she will forever be known as an Olympic gold medalist.