Nate Parker's rape case shows how little has changed with campus sexual assault since 1999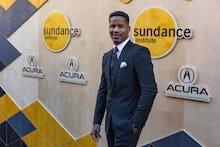 Actor-director Nate Parker's critically acclaimed film, The Birth of a Nation, is a dramatic and graphic retelling of Nat Turner's slave revolt that, in January, sold for $17.5 million to Fox Searchlight in the biggest sale Sundance has ever seen. With the movie, Parker aims to force Americans into an "honest confrontation" with their past, which Parker told Deadline is the only way people can heal.
Parker's confrontation of his own past is less honest, and it's currently churning up controversy around a film that is, by all accounts, groundbreaking.
In 1999, Parker and his roommate, Jean McGianni Celestin, were accused of raping an unconscious woman. At the time, both were wrestlers at Penn State University, where the victim was a first-year student. Celestin, who has a story credit on The Birth of a Nation, was found guilty of sexual assault but appealed and won by default when the victim refused to testify again. Parker was acquitted and has since adamantly maintained his innocence. In a recent interview with Variety, he acknowledged the trial as "a very painful moment in my life," emphasizing that he was cleared of all charges.
I think by today's legal standards, a lot has changed with regards to universities and the laws in sexual assault.
But the woman who accused him never healed. She committed suicide in 2012, her brother told Variety. He believes the outcome would've been different were the case tried today.
"I think by today's legal standards, a lot has changed with regards to universities and the laws in sexual assault," he said. "I feel certain if this were to happen in 2016, the outcome would be different than it was. Courts are a lot stricter about this kind of thing. You don't touch someone who is so intoxicated — period."
It's worth considering the brother's question: What's changed? If the case went to trial today, could we expect to see a different outcome?
Parker's defense attorneys leaned heavily on rape myths during the trial, playing on popular misconceptions that painted the victim as a drunk, as promiscuous and as untrustworthy.  
"Myths abound among the public," Christina Mancini — an associate professor in the Wilder School of Government and Public Affairs at Virginia Commonwealth University, where she studies sexual victimization and campus crime — said in a phone interview. "The public has very strong views about what 'real' rapes are."
For example, she said, people often assume that rapists are strangers to their victims. There's a "stereotypical" rapist, she said — an unknown man who jumps out of the woods and onto a woman running by.  But according to the Rape, Abuse & Incest National Network (RAINN), three out of four rapes are committed by a person the victim knows.
At trial, defense attorney Joseph Devecka emphasized that Parker and the victim knew one another and in fact had had a prior relationship: The assault occurred in the early morning hours of August 21, and on August 19, the victim had willingly performed oral sex on Parker in her dorm room. She testified that Parker had tried to have sex with her, but that she said, "No, I do not know you that well yet."
When he questioned her, Devecka used the consensual encounter to portray the victim a certain way. The Daily Beast obtained transcripts of his examination:
"Now, you invited him to your dorm room; is that correct?" the attorney asked the victim.
If the public doesn't think of rapists as people they know, they are even less likely to think of them as people they've known intimately. The defense's emphasis on prior relationship served a dual function: Parker was no stranger to the victim; she knew him — and just the other day, she had consented to oral sex with him. To many, that excuses the rape that comes later despite the fact that consent can only be given on a case-by-case basis.
Alcohol further clouded the case for jurors. In 2016, a person cannot legally give consent when intoxicated; in Pennsylvania in 1999, a person could not consent to sex if they were unconscious, and therefore the defense did its best to demonstrate that if the victim was drunk, she was still with it. In his closing remarks, Celestin's defense attorney — Mark Lancaster — stressed that witnesses said the victim "didn't appear drunk, didn't appear intoxicated." She drank all the time. She knew what she was doing. 
Devecka, meanwhile, relied on catch-22 logic: There's a difference between being unconscious and not being able to remember, he argued. When people drink to the extent that the victim did, they can't necessarily recall their actions. That doesn't mean those actions never happened. The victim, he said, "such a convenient memory." How can she say she never consented to sex if she doesn't remember what she did?
All the myths that defined Parker's case persist in 2016. Attitudes toward sexual assault may be changing, but preconceived notions of what rape is and what rape isn't mean that rape cases are still difficult to prosecute. According to RAINN, 13 out of every 1,000 reported rape cases go to a prosecutor. Only seven cases finish with a felony conviction.
"I would like to think it would be different today, both on the campus and in the courtroom, but I honestly don't know," Shanlon Wu, a former federal sex crimes prosecutor and current partner at Wu, Grohovsky & Whipple, said in a phone interview. "Many of the same problems, same prejudices, same inequalities of power are present today."
Campus sexual assault has never received more attention than it's getting now, and yet investigations are marked by the same myths that defined Parker's case. According to PBS, around 80% of on-campus assault victims know their attackers. Many are subject to the same victim-blaming tactics Parker's defense team employed.
Take, for example, Madeline, a former St. Olaf student who was sexually assaulted after drinking too much at a party in 2015. The accused male student admitted she'd said no to intercourse but that he'd gone ahead anyway. Still, his college cleared him of blame based on the argument that Madeline, having been intoxicated at the time, was probably creating false memories — she'd said yes; she just couldn't remember.
The victim in the Stanford rape case heard that argument, too. In a statement she read to Brock Turner, the 20-year-old swimmer who sexually assaulted her unconscious body behind a dumpster in 2015, the victim recalled being "pummeled with narrowed, pointed questions that dissected my personal life, love life, past life, family life, inane questions," the goal of which was to "paint a picture of [her], the face of girls gone wild."
Parker's case looks eerily similar to most of the campus sexual assault cases making news today. Title IX, the legal framework that protects against sex discrimination in education, existed in 1999. But it's only more recently been applied to sexual assault cases — universities are now required to investigate sexual violence and protect victims if they want to continue to receive federal funding. Indeed, violations of Title IX formed the basis of a civil suit the victim in Parker's case later brought against Penn State, which was settled for a reported $17,500. An on-campus investigation of the matter wouldn't have had any bearing on the criminal case, but it may have meant that someone held Parker responsible.
As of June, more than 300 schools nationwide were under investigation for Title IX violations. That Title IX exists doesn't mean schools necessarily abide it, and it doesn't mean that sexual assault doesn't happen. On paper, Title IX protects students from discrimination after rape has occurred, but it doesn't always mean rapists are punished. Neither does U.S. law — not in 1999, and not in 2016.
"We've come a long way [from 1999] in the sense of, there's a lot more light behind shed on the problems, there are people thinking about them and real solutions that have been proposed," Wu said. 
In 2016, people are talking about sexual assault; it's widely recognized as a problem. But they're mostly talking about sexual assault in terms of outrage — How is this still happening today?