Caster Semenya has been accused of cheating — because of something her body does naturally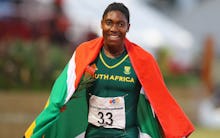 When South African Olympic track and field star Caster Semenya was 18, she came in first in her event, the 800 meter, at the 2009 world track and field championships. But she didn't just win — she won by more than than two seconds, an eternity in track and field.
After her 2009 win, Semenya faced serious investigations, competitors accused her of not being a woman and Semenya was forced to undergo "sex verification tests," NPR reported.
The results of the tests were kept private, but, according to NPR, leaked reports suggested that Semenya had "testosterone levels three times as high as most women." 
She was banned from competing, then reinstated a few months later, according to the New York Times. The general secretary of the International Association of Athletics Federations Pierre Weiss, said of Semenya, "She is a woman, but maybe not 100%." 
But higher levels of testosterone, which occur naturally in many people because of a condition called hyperandrogenism, may not offer more of benefit than say, good coaching, or long legs or training in a high altitude, reports the Times, pointing out that "all Olympians have some exceptional traits. That is why they are elite athletes."
Despite no concrete proof that higher testosterone levels offer a significant competitive advantage — the rhetoric and criticism surrounding Semenya's body was dripping with prejudice. According to NPR, Semenya has been reported to be intersex (although she has never confirmed this herself) and some have referred to her using male pronouns, or worse, as "it."
In 2015, the Court of Arbitration for Sport suspended the IAAF's testosterone policy, giving the organization two years to come up with evidence that naturally higher testosterone unfairly benefits competitors.
This year Semenya will compete at the Olympics in the women's 800, where she's a favorite to win gold. The final race is scheduled for Saturday, Aug. 20 at 8:15 p.m. Eastern. Hopefully this year, her gold medal won't come with a side helping of interrogation.