Kalashnikov opened a souvenir shop in Moscow's airport for all your model AK-47 needs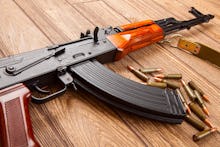 Selling model assault rifles in a crowded airport — sounds like a great idea, right?
Well, Kalashnikov gunmakers apparently think so. The makers of the popular assault rifle of the same name, also known as the AK-47, have opened a flagship souvenir shop in Sheremetyevo International Airport, one of the busiest airports in Moscow. 
An airport official attempted to assuage the obvious concerns associated with an initiative like this, telling Reuters the full-scale model guns would be obviously just that, not to be confused with real ones. 
If a toy assault rifle isn't really your scene, never fear: The shop will also sell "novelties including pens, umbrellas, bags, hats, camouflage gear and 'I love AK' T-shirts," Reuters noted. 
The shop can be found in a hall connecting Aeroexpress, the train to Moscow's city center, to the terminals. 
"Kalashnikov is one of the most popular brands that come to mind when people think of Russia," said Vladimir Dmitriyev, Kalashnikov's marketing director who spoke at the store's grand opening Friday, told the RIA Novosti news agency.
"We are pleased to provide everyone with an opportunity to take home a souvenir with our brand on it," Dmitriyev added. 
However, some people are fired up over the introduction of the store and its imitation guns. 
"This issue is seriously important," Anna Zakharova, an airport spokeswoman, told Agence France-Press in an email.
"The situation is being monitored by our aviation security service," she added. Should security problems arise from the selection of their merchandise, the airport may discuss with Kalashnikov changing what is available to customers.