Kimia Alizadeh is the first woman from Iran to win an Olympic medal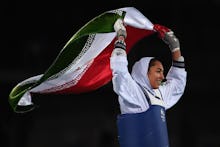 Kimia Alizadeh is just 18 years old and is already viewed as an icon by fellow Iranians on Twitter for her incredible feat Thursday night. She became the first woman to win an Olympic medal while representing Iran when she won the bronze in taekwondo.
Alizadeh defeated Sweden's Nikita Glasnovic in the under-57 kilogram division by 5-1 for the bronze medal, Yahoo News reported. In doing so, she became an inspiration for a whole generation of young Iranian women.
For several decades following the Islamic revolution in 1979, Iranian women were barred from competing in the Olympics. It wasn't until the 1992 Olympic Games in Barcelona, Spain, when Lida Fariman, an archer, became the first Iranian woman to be allowed to compete in the games since the revolution. 
Alizadeh, who competed in a sports hijab under her combative gear, has a successful career in the martial arts. In the 2015 World Championships, Alizadeh beat out Olympic gold medalist Jade Jones from Great Britain to win a bronze medal. In 2014, she won the gold medal in the youth Olympic Games at Nanjing, China.
Now, in a country where women are prohibited from watching men compete in sport events as spectators, Alizadeh is not only bringing home a medal, but also a message: There is nothing an Iranian woman cannot do.