This 'No Man's Sky' 'penis bouquet' is going viral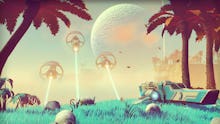 Since No Man's Sky was released last week on PlayStation 4, players have immersed themselves in the vast universe that spawns unique plants and creatures throughout the game's 18 quintillion planets. Each world across the space exploration game features a distinctive ecosystem that has led to some truly remarkable findings. Perhaps most fascinating is the discovery of a so-called "penis bouquet." See for yourself:
The image, which started to go viral on Imgur, was posted by Reddit user Smackvein. In his post, he says, "I know they don't want us naming shit after our dicks. But sometimes 'Penis Bouquet' is the only name that fits." Looking at these "flowers," we're inclined to agree. There's nothing else to call it, really.
No Man's Sky allows users to name various planets, animals and flora encountered during their expedition. The game automatically filters out most curse words, but in this case, "penis bouquet" is truly the only appropriate name.