Will Usain Bolt run in the 2020 Tokyo Olympics? Here's what you should know.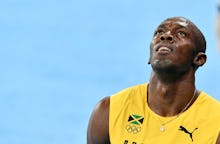 As Olympic fans wait with bated breath to see how Usain Bolt closes out his 2016 Olympic slate in Friday night's 4x100-meter relay, it's clear the Jamaican sprinter hasn't tired of winning, and the world hasn't tired of watching.
Though the three-time Olympian announced plans to retire after the 2017 World Championships, there's cause to believe there'll be more to see from Bolt.
In July, Bolt said his coach, Glen Mills, already had his eye on the 2020 Tokyo Olympics. 
"My coach always says, 'Usain, you can always go to the 2020 Olympics if you want,'" Bolt told Rio 2016. "So this is why he tells me to stop talking about retirement and just take it a year at a time."
On Thursday night, Bolt clinched his second gold medal at the Rio games in the men's 200-meter, marking the sprinter's eighth Olympic medal overall, having snatched up six others at the 2008 Beijing and 2012 London Olympics. 
In a post-race interview, Bolt also seemed to suggest his work isn't done. 
"I'm trying to be one of the greatest, to be among Ali and Pelé," Bolt told BBC Sport. "I have made the sport exciting, I have made people want to see the sport. I have put the sport on a different level."