How Pasquale "Possible Pat" Brocco lost 300 pounds on the "Walmart diet"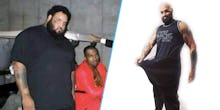 Pasquale "Pat" Brocco took weight loss one step at a time, literally. 
Nicknamed "Fat Pat," Brocco weighed 605 pounds at age 28. In a last-ditch attempt to get healthier, the new dad began walking to a Walmart in his hometown of Avondale, Arizona, each time he was hungry, ABC News reported. 
"At 600 pounds, I couldn't even go to the gym," Brocco, now 31, told ABC News. "I didn't fit on the machines." 
Brocco wrote on his Instagram that he used to be a bodyguard for celebrities. He shared an Instagram photo with Kanye West sitting beside him. Brocco's Facebook page has a photo of him and Drake.
Brocco decided to walk a mile to Walmart and a mile back, three times a day — a total of 6 miles a day. After two years of walks, Brocco had lost 200 pounds. 
Once he slimmed down, he began walking on a treadmill at an incline. Later, he graduated to using other gym equipment to continue his weight-loss journey. 
Brocco's nickname isn't "Fat Pat" anymore: It's "Possible Pat," which is also the handle of his Instagram account. 
"I abused [food] to the point of bringing myself close to death," Brocco wrote in a recent Instagram post showing his dramatic transformation.
Possible Pat kept it real with his followers, posting a photo of the loose skin on his stomach — a common side effect of tremendous weight loss. 
He started a GoFundMe campaign to raise money for cosmetic surgery to remove his loose skin, and the internet pulled through: Brocco raised over $2,700. He got 30 pounds of extra skin removed on Monday, ABC News noted. Check out the photo below, posted on Thursday. 
What's next for Brocco? He's spreading the health and fitness gospel, one Instagram, Twitter,  Snapchat and YouTube video at a time.