Paul Manafort resigns as Donald Trump's campaign chairman amid ongoing turmoil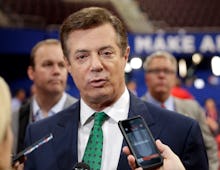 Paul Manafort resigned as chairman of Donald Trump's presidential campaign on Friday, a move that follows an overhaul of the campaign's management structure and mounting scrutiny of the longtime lobbyist's business dealings.
"I am very appreciative for his great work in helping to get us where we are today, and in particular his work guiding us through the convention process," Trump said in a statement, calling Manafort a "true professional."
According to a source close to Manafort who was granted anonymity to speak frankly about his resignation, tensions surfaced after "Trump stopped listening to him and Manafort refused to just go along for the ride."
The source said the former campaign chairman was "saying things Trump didn't want to hear," such as advising him to "stop attacking Gold Star families" and "stop making veiled Second Amendment references."
Roger Stone, a former top advisor to Trump and ally of Manafort, vigorously defended Manafort in an interview shortly after news of his resignation broke.
"There is an easy explanation for this: Manafort became concerned that the contrived and unfounded attacks by him, all peddled by the Clinton spin machine, would become a distraction and fuel the whole Russia-Trump-Putin-Manafort narrative of the Clintons," Stone said in a phone call.
"Manafort did what Corey Lewandowski should have done when he was accused of manhandling a woman: He stepped aside," Stone said, referring to Trump's former campaign manager, who remained with the campaign after an altercation with a reporter in March. "That's a pro."
"He told me last night he was thinking about this; told me this morning he'd decided to do it," Stone added.
Lewandowski could not immediately be reached for comment, but said on CNN that Manafort is "a true professional" and he wishes him the "absolute very best."
Recent damaging news reports about Manafort's involvement in political machinations in Ukraine "were prominent in the discussion" of his departure, the source close to Manafort said.
As to whether Manafort actually quit or got fired, the source said Manafort resigned, "but it was a formality."
A turbulent tenure: The veteran Republican operative, who originally joined Trump's campaign in March ahead of what was expected to be a drawn-out battle for delegates, assumed effective control of the campaign in June, after the ouster of Lewandowski.
While Manafort hoped to steer Trump to victory over Democratic nominee Hillary Clinton, Trump's plunge in the polls following a series of incendiary remarks contributed to the nominee's shake-up of his campaign this week. Trump promoted pollster Kellyanne Conway to campaign manager and brought on Steve Bannon, a Breitbart News executive, to serve as CEO of the campaign.
The overhaul amounted to an effective demotion for Manafort, who has been dogged by unflattering exposes of his lobbying business in recent days.
The New York Times revealed Sunday that he may have received up to $12.7 million in secret payments from the pro-Russian regime of former Ukrainian President Viktor Yanukovych, a Manafort client.
Moreover, the Associated Press reported Wednesday that Manafort helped covertly funnel $2.2 million in payments from Yanukovych's government to two American lobbying firms — raising the possibility that Manafort had engaged in undisclosed lobbying, a felony that can trigger a five-year prison sentence.