Milo Yiannopoulos' scholarship for white men raised $100,000. No one's received a cent.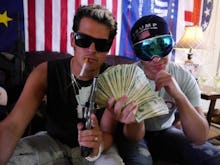 In January, conservative blogger Milo Yiannopoulos launched the Yiannopoulos Privilege Grant, a scholarship for white men only. It was designed as a deliberate provocation to rile up liberals — but the money, at least, seemed to be headed toward college scholarships. 
What happened to it? We now have an answer: The Daily Beast reported today that the money is sitting in Yiannopoulos' private accounts, and no one has seen a cent.
Yiannopoulos is best known as a provocateur demagogue of the "alternative right" movement, a horde of self-stylized right-wing intellectuals with misogynistic, xenophobic and anti-Semitic leanings. Yiannopoulos travels the country on his "Dangerous Faggot" tour, where he speaks at colleges with the intention of provoking campus activists.
When Yiannopoulos announced the Privilege Grant, he said it would be "exclusively available to white men who wish to pursue their post-secondary education on equal footing with their female, queer and ethnic minority classmates." The money was supposed to be doled out in "early summer 2016."
But the Yiannopoulos Privilege Grant hasn't yet filed the paperwork that would make it a legal nonprofit. "No scholarships have been awarded," the Daily Beast reported, "and the charity's website shows there isn't even a way for prospective students to apply for them." (Mic reached out to Yiannopoulos for comment.)
The accounting behind the scholarship fund came to light when Margaret MacLennan, a conservative YouTuber who helped Yiannopoulos fundraise, posted a sarcastic tweet showing that Yiannopoulos
Yiannopoulos claims he's currently in the process of filing paperwork to legitimize the scholarship fund as a real charity, but the Daily Beast's legal experts say that waiting this long after collecting thousands of dollars in donations is potentially illegal.
Yiannopoulos has come under fire for financial delinquency before: In 2013, as the editor-in-chief of a blog called the Kernel, he had to answer to British investigators over unpaid wages.
During his 2015 crusade against New York Daily News columnist Shaun King, Yiannopoulos accused King of mishandling hundreds of thousands of dollars raised on behalf of families who lost loved ones to police violence. He asked King, "How is anyone supposed to verify that the funds you raise end up with the people they are supposed to benefit?"
Yiannopoulos now has to account for that question himself.