Ryan Lochte apologizes for "not being more careful" in retelling of Rio robbery story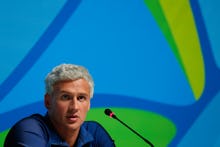 Not long after claiming that he and three other United States Olympic swimmers were robbed at gunpoint in Rio, Ryan Lochte's story began to unravel.
Following evidence that showed Lochte and his teammates taking part in what the Associated Press called a "rowdy gas station confrontation" at the time of the alleged robbery, Brazilian police announced on Thursday that Lochte's story was a sham.
Now, the gold medalist has issued an apology on his Instagram account, saying he's sorry for not being "more careful and candid" in how he described the incident — and for taking the spotlight away from other Olympic athletes with the scandal.
"It's traumatic to be out late with your friends in a foreign country — with a language barrier — and have a stranger point a gun at you and demand money to let you leave," Lochte wrote. 
He continued, "But regardless of the behavior of anyone else that night, I should have been much more responsible in how I handled myself and for that I am sorry to my teammates, my fans, my fellow competitors, my sponsors and the hosts of this great event."
But while Lochte stuck to the main claims of his original story, Brazil's Civil Police Chief Fernando Veloso maintained during a news conference on Friday that no robbery occurred at all. 
"No robbery was committed against these athletes," he said, according to the Associated Press. "They were not victims of the crimes they claimed," 
And what's more, Lochte's remorse doesn't change that Brazilian authorities are considering charging the swimmers with falsely reporting a crime and destruction of property, for a bathroom door they vandalized at the gas station.
Still, Lochte ended his post in hopes of leaving the incident behind him. 
"There has already been too much said and too many valuable resources dedicated to what happened last weekend," he wrote. "I hope we spend our time celebrating the great stories and performances of these games and look ahead to celebrating future successes."