Latest iPhone 7 camera leak confirms a major update on Apple's next device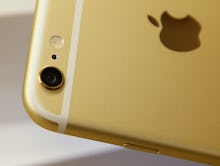 What's up with the camera on the iPhone 7? Apple's newest smartphone, whose rumored release date could be as late as Sept. 23, is drawing early criticism due to its rumored lack of dynamic upgrades. But a newly leaked camera addition could challenge that notion — if rumors are true. 
French Apple blog Nowhereelse.fr recently posted an image of the iPhone 7's supposed rear camera module, which indicates a major upgrade to the device's photographic capabilities in the form of optical image stabilization.
A closer glimpse at the camera comparison reveals a critical distinction between previous models and the upcoming iPhone 7. Surrounding the rear lens are four small divots, which "house the springs and equipment that allow for the lens to float slightly, leading to clearer, less blurry images," according to MacRumors.com. 
Previously, only the iPhone 6s and iPhone 6s Plus had those cutouts built into the camera. You can see the base iPhone 6 and iPhone 6 Plus missing the feature in the image below:
The inclusion of optical image stabilization in the iPhone 7 could convince skeptical consumers to take the leap and purchase Apple's latest offering. The feature would minimize camera shake and allow users to set slower shutter speeds, which produces brighter and sharper photos in low-light situations.
Apple iPhone 7 users might have yet another option to consider. Numerous reports suggest Apple will introduce a dual-camera system in the larger, pricier iPhone 7 Plus. Two rear-facing cameras would greatly increase image quality, which begs the question: Which do you value more? Camera quality or space in your pockets?