Amber Heard explains why she's donating her $7 million divorce settlement to charity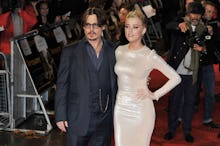 The Amber Heard and Johnny Depp divorce saga has finally reached its conclusion this week, after a TMZ report saying Heard dismissed the case for $7 million was confirmed in a statement from Heard on Thursday.
The unexpected twist: she is donating the entire settlement to charity.
In Heard's words:
As described in the restraining order and divorce settlement, money played no role for me personally and never has, except to the extent that I could donate it to charity and, in doing so, hopefully help those less able to defend themselves...
Details from the Depp-Heard divorce have been making headlines all summer, from Heard's initial abuse allegations and restraining order to recently leaked video footage showing a seemingly inebriated Depp smashing a wine glass during an argument. As the pair's legal battle unfolded in the headlines, Heard was subject to accusations of being a gold digger, even after she formally withdrew her request for spousal support in June.
"In light of the coordinated false and negative media campaign falsely depicting my attempts to attain [spousal support] as being financially motivated, I am hereby withdrawing my request," she wrote in a statement at the time.
And now that Heard is donating her $7 million settlement to charity, the message that she never had any interest in Depp's money couldn't possibly be clearer. In her statement, Heard added that she hopes the donation might lead to something good actually coming out of this very unfortunate situation.
"I know these organizations will put the funds to good use and look forward to continuing to support them in the future," Heard continued. "Hopefully, this experience results in a positive change in the lives of people who need it the most."