Baton Rouge flood victims aren't getting nearly enough relief money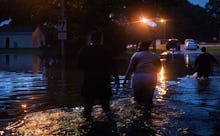 Residents of Baton Rouge, Louisiana, have endured the worst natural disaster since Hurricane Sandy, according to a statement from the Red Cross issued Thursday.
Though the flood waters have finally stopped rising, they have been slow to recede and the worst may still be ahead. 
That's because the maximum payout for flood victims under the Federal Emergency Response Agency is only $33,000, according to the Wall Street Journal. 
That number may not be even close to enough to match the scale of the damage. Some 110,000 homes have experienced up to $20 billion in damage, according to a new report from the Baton Rouge Area Chamber and reported by the Baton Rouge Advocate.
"I've lost everything," Dwanda Irvin, who is currently living in a shelter, told the Wall Street Journal. 
About 87% of the homes in Baton Rouge are within the flooding area, but only 21% of the households have flooding insurance, according to the Advocate. 
State officials called an emergency session on Thursday to figure out how to cover all of the expenses. Cash-strapped Louisiana has to come up with $800,000 a day just to cover expenses for the National Guard. 
As Louisiana seeks to recover, the state's floods have become a point of political contention.
Louisiana Gov. John Bel Edwards pushed back against the notion that President Barack Obama should have visited the region by now, saying in a Thursday press conference that his presence would distract from recovery efforts. 
On Friday afternoon, Republican presidential nominee Donald Trump touched down in the region to speak with victims. 
Democratic presidential nominee Hillary Clinton sent out a fundraising email Friday, encouraging supporters to donate to the Red Cross or the Baton Rouge Area Foundation, which are both involved in recovery efforts.