Everything we know about 'Fear the Walking Dead' season 2's return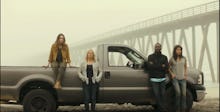 They could not, would not, on a boat — and so the second half of Fear the Walking Dead's second season will push its characters venture onto dry land in Mexico. The Walking Dead's spinoff show has tried its best to distance itself, from its flagship series, despite the zombies, with middling results.
(Editor's note: Spoilers ahead for the previous season and a half of Fear the Walking Dead.) 
The show's narrative set out at the beginning of the zombie outbreak in Los Angeles, then took its characters on a half-season boating trip across the Pacific Ocean. That was fascinating, but its midseason finale felt all too familiar to Herschel's farm on The Walking Dead — and that's not good. 
Will the second half of season two be any different? Here's what you need to know ahead of its midseason premiere Sunday. 
The San Diego Comic-Con trailer showed us a lot of post-apocalyptic Mexico. Unlike The Walking Dead's Comic-Con trailer — which couldn't show much because they ended on a cliffhanger — Fear the Walking Dead provided an extensive look at post-apocalyptic Mexico, where the characters are dispersed. 
In turn, we see glimpses of a new surviving community in Tijuana, which appear to have suspect methods of handling the undead. We see a man, essentially, sacrificing himself to zombies and subsequently being eaten alive. 
How the new community will play out with the rest of the group remains to be seen, but The Walking Dead has consistently relied on humanity as a threat, alongside the undead. Its spinoff could likely follow suit. 
Daniel could still be alive — but we may not see him this season. In a word, Daniel's journey in the first half of season two was, rough. He began having visions of his dead wife and seemingly died in the fire at Celia's mansion that he set. But we're familiar with the TV trope: if you don't see them die on-screen, they could come back.
Daniel wasn't seen killed on-screen, and there's another reason to expect his return: the showrunner himself wants to make it happen. Speaking with Entertainment Weekly in May, Fear the Walking Dead creator Dave Erickson says that Daniel's story will continue, but it will likely happen in season three. 
"From my perspective, in terms of the arc of the show, this is not the last we see of Daniel Salazar," he said. "He will be done for the season. We won't be seeing Daniel in the back half, but my hope is we will see the return of Daniel in season three." 
Nick continues being weird. Nick really enjoys hanging out with the undead, sporting their guts all over his body so he can walk among them undisturbed. It's a great tactic to avoid getting eaten, but yeah, it's a bit weird. That doesn't appear to be changing anytime soon, per the premiere's synopsis. 
"Nick's steadfast search for answers leads him into a deadly dog-eat-dog landscape," the synopsis reads. "A dark piece of his past is uncovered." 
That dark past could relate to his familiar history with drug abuse, and that could just be the tip of the iceberg with Nick's problems. Per the Comic-Con trailer, he'll eventually meet up with the mysterious Tijuana community, and at one point, pisses someone off to the point that they're prepared to hack off his arm with a machete — that probably won't happen, though.
We could see some "big deaths" this season. On a show full of zombies, death certainly isn't unexpected. However, actor Cliff Curtis — who plays Travis on the series — said there will be "big deaths" before the end of the season, according to TV Line. 
The big key here is the plural form: the show's got a much smaller cast than its flagship series, so that could mean a big shakeup in the next half-season. 
Zombies can't fly. Just in case you were wondering.