ClintonKaine.com is a 'Harry Potter' fanfic site (but not for long)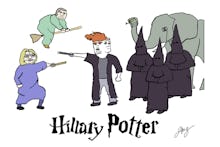 In the latest chapter of the twisted fantasy novel that is the 2016 Presidential election, the domain name ClintonKaine.com takes you to a website that features drawings of the candidates as characters from the Harry Potter series, as well as two short fanfics featuring a character creatively named Hillary Potter. Here is an excerpt of one of the fanfics, titled Hillary Potter and the Deathly Howler.
Timotonous Kaine. He would help Hillary Potter vanquish Don Marvolo Trump, known in popular parlance as He-Who-Must-Not-Be-Elected.
Got that? Moving on ...
As the definitive Hufflepuff, Kaine had the genuineness and the strength of character to resist Trump's trollish howls and perhaps even help prevent undecided members of the wizarding population from falling victim to Trump's projections of terror and assurances of salvation.
Trump had to be stopped. He had won many followers already with his promise to erect a massive wall to keep Muggles out, not to mention his advocacy for the surveillance and persecution of wizards who came from "impure" wizarding backgrounds. Now Hillary Potter and Timotonous Kaine were the only thing that stood between him and absolute dominance of the wizarding world. A terrifying thought.
This compelling web-adventure was brought to you by Jeremy Peter Green (Jeremy Pegg on Twitter), a lawyer and artist who registered the domain name back in 2011, paying $8, according to NPR's Morning Edition.
Green had a feeling that holding on the the website would pay off, he told Morning Edition host David Greene (no relation). "I was very, very happy, very excited when [Hillary Clinton] picked Tim Kaine," he said. "I'd been nervous the weeks leading up to it." 
So Green, a Clinton supporter, reached out to the Clinton campaign and offered to sell the domain. "I was willing to go as low as 10,000 if they had even tried to bargain with me," he said.
But their offer didn't come close to the big payout Green had been hoping for — they offered him $2,000 for the site. He declined. "I was like, who's going to buy it now, this sucks," Green said.
So the political Harry Potter fanfic remains — for now. But that may be about to change, because Green recently accepted a $15,000 offer for the domain. Now ClintonKaine.com belongs to Brad Parscale, Donald Trump's digital director, Morning Edition reported. 
That's right, Green's domain landed in the hands of "Don Marvolo Trump" himself. But he insisted that money is "going to go to some non-Trumpian things." 
"I'm going to use it to start doing some good stuff in DC as a lawyer," Green said in an interview. "I'm going to work pro-bono for tenants and sex workers and various marginalized groups ... It's $15,000 that Trump won't use on advertising, and it's going to go to some non-Trumpian things."
Those who have developed a soft spot for the fantastic journeys of Hillary Potter need not fear: ClintonBooker.com and ClintonBiden.com, also owned by the enterprising Green, will continue to carry the torch. 
Aug. 22, 2016, 4:48 p.m.: This story has been updated.