A Tribe Called Quest recorded an album before Phife Dawg's death, and it's coming soon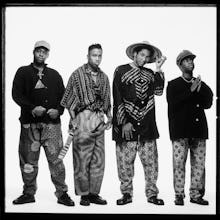 Earlier this year, A Tribe Called Quest lost its "five-foot assassin," Phife Dawg. The whole hip-hop community came together to mourn the death of this founding father, but it seems we still haven't heard the last of Phife Dawg's cheeky street raps, or Q-Tip's philosophical waxings or Ali Shaheed Muhammad's production. 
The Tribe apparently still has one more album on its way, which the group recorded in secrecy prior Phife Dawg's passing.
Epic Records Chairman and CEO L.A. Reid shared the news in a Friday Rap Radar podcast, while being asked about the possibility of an Outkast reunion. He pivoted away from those rumors, and brought up Tribe. 
"You know what I'm excited about though?" he said. "A Tribe Called Quest. [Epic Records] has A Tribe Called Quest album coming." It's not a record of B-sides and rarities, he clarified. "It's an album that [the members] recorded before Phife [Dawg] passed away. I'm really happy about it, man. It's really something special. It's one of the things I'm most excited about out of everything we're working on."
Reid added it's coming "very soon" and it will be the first Tribe Called Quest first record in 18 years, since 1998's The Love Movement. Needless to say, hip-hop Twitter was elated.
The label hasn't yet confirmed a release date or offered an official statement about the project in any capacity, but coming from Epic's top dog, it seems all but assured. 
Around the time of Phife Dawg's death, news began circulating the rapper had been working on finishing a solo album of his own, supposedly titled Give Thanks. That project's first single "Nutshell," featuring a beat from J Dilla, dropped April 5. It proved Phife Dawg's lyrical skills hadn't gotten even the least bit rusty. 
We will see if we can say the same about A Tribe Called Quest when and if this sixth album drops. Listen to "Nutshell" below.